Why do women decide to become egg donors? And how does the process unfold? Egg Helpers continues its series of interviews with our donors to share stories from women just like you. Women who decided to take a leap of faith, change someone's life forever, and make their dreams come true. Amber is our Support and Admissions Specialist, and this is her story.
Why did you decide to donate your eggs?
I'm a mom myself, and I suffered a miscarriage before my little boy was born so I understand how hard the road to becoming a parent can be. When I started working for Egg Helpers, egg donation was just something I knew I wanted to do. I knew I was perfectly capable of going through with it and I wanted to give a family that gift of life.
Did you get paid for your egg donation?
No, but I was reimbursed for any costs that came up during the course of my donation.
What are some misconceptions you've heard about egg donors?
I've heard that some donors are only in it for the money, but we have an altruistic donation system here in Canada so that simply isn't the case.
How was your egg donation different from what you expected?
I was extremely nervous at first, because I really didn't know what to expect, but once I started taking the medication it all became normalized pretty soon. After my first night of injections, the whole medication side of the process was extremely easy. I was attending a great fertility clinic where the nurses were all super nice and the doctors were really accommodating. They all went out of their way to ensure that the experience was as comfortable as possible. I think it's like anything new you experience, you don't know what to expect in the beginning, but pretty soon you realize that it's not as big of a deal as you though it would be!
Did you experience any side affects in relation to your hormone medication?
For the first week or so I really didn't feel any different. It wasn't until four or five days before my retrieval that I started feeling bloated and started cramping. I was also pretty tired, and I was taking care of a toddler at the time so that made it a bit more difficult. But before I knew it, the donation was over, and I was back to my normal self.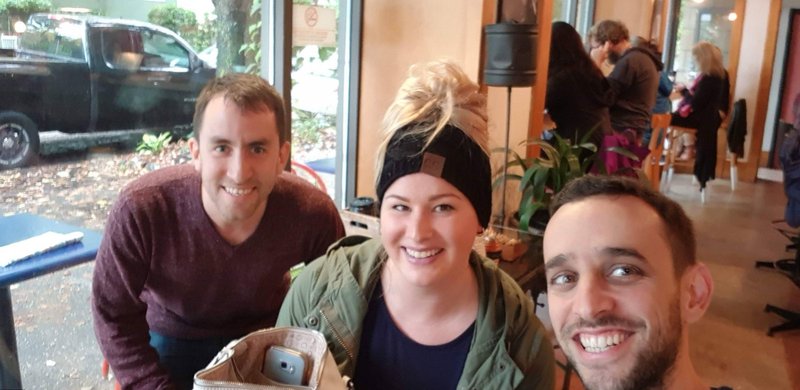 Why did you choose an anonymous donation?
At first, I was really against known donations, and I didn't want to go through with a known donation at all. However, once I was about half-way through my anonymous donation, I started thinking a lot about my Intended Mother, and I wished that I knew more about her and what she was going through. I don't regret going through with that first anonymous donation at all, and I believe it was meant to be. But, when my second donation came about, I saw my Intended Parent's profile and their story really touched my heart. I knew that they wanted a known donation, so I thought I'd give it a shot. Now I'm super stoked about it because they're both great guys and I get to follow them throughout their entire journey.
How did you pick your Intended Parents for your known donation?
I heard about them through working in the Egg Helper's office since everyone was talking about how amazing their profile was. Their first donor was having some issues and wasn't able to move forward, so I asked if I could look at their profile and see if they were the right fit. As soon as I read their story, I just knew they were perfect for me.
What is your relationship like with the Intended Parents?
They were very active participants throughout the entire donation process. They went with me to almost all of my appointments. They weren't able to make it to my retrieval as they were out of the country, but I sent them photos of my ultrasounds to keep them informed. We're still in touch, and we chat every other week or so. We talk about how they're doing and where they are in their surrogacy journey. Their surrogate just had her transfer in January, and everything is looking good so far. It's really exciting to be able to follow along with them as they go through this whole process together.
What did your family think of your egg donation?
Although I don't have the closest relationship with my own family, my husband was super supportive throughout the entire process. He took me to quite a few of my appointments during my anonymous donation, and he came to both of my retrieval days. My in-laws are also super supportive, and they were my go-to people when it came to child care. My sisters are also really supportive, and I have a great group of friends who all thought my donation journey was pretty incredible.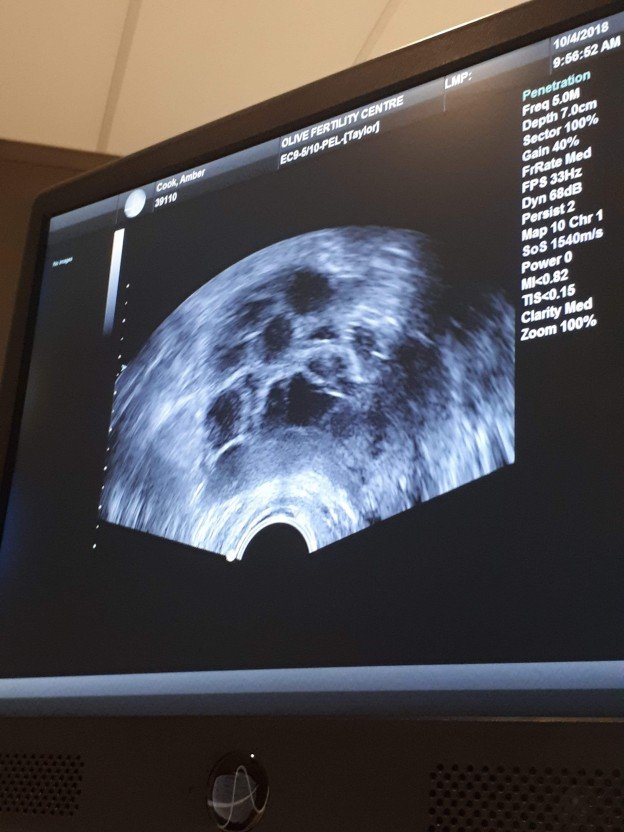 How much time did you miss from work for your donation?
I had to travel quite a bit, so I missed about six to seven full days of work. For my first donation I had to drive over two hours to make it to my appointments and back, and for my second I had to take a sea plane every time. But, for the average person who lives in a more populated area, they are often much closer to their clinic and the travel times are not as extreme. The appointments themselves are pretty quick and can be done in between work or school.
Do you have any tips in terms of what qualities a prospective donor should look for in an egg donor agency?
I think feeling comfortable and supported are the two most important things. It's also really important to listen to your gut reaction when dealing with an egg donor agency. As long as you feel safe and comfortable, and your questions are being answered, you should feel good about your decision to be a donor.
What did you learn about yourself through the egg donor process?
I learned how strong, compassionate, and giving I can be. It's a pretty amazing thing to be able to give this gift to a family while knowing that there are no strings attached. It's truly a tremendous act of generosity.
What's the best thing about being an egg donor?
It's so rewarding. Although I loved giving anonymously, being part of a known donation is just such an amazing experience as I can watch the entire surrogacy process unfold. It's wonderful to be in touch with my Intended Parents and witness the joy they are experiencing as they become new parents. Knowing that I played a small part in their happiness is the most amazing feeling in the world.
Thank you, Amber, for taking the time to share your amazing egg donation story with Egg Helpers.